Designing for educational institutions inherently comes with strict timelines, expedited schedules, and necessary sensitivity to the school calendar. The project with The Herzing University Minneapolis Campus (Herzing) was no different, and our team worked with the Client to establish specific goals and delivery dates that would result in a space they loved, while remaining in budget and on schedule.
Due to the pre-determined, unmovable school start dates, the project had a deadline of January 2018.  We recommended selecting a contractor early on in the process to expedite the process, and we ultimately chose to work with The Bainey Group. The team, consisting of Herzing President Jason Morgan, the leasing team, and Mohagen Hansen, also felt there would be value in adding 45 North Group to the team to provide project management. We then began the project by conducting User Group meetings with program chairs from physical and occupational therapy, dental and nursing to gain a first-hand understanding of their specific needs.
Communal Study Space
Enhancing the student experience was the key project driver. The campus needed to be inviting and useful for current students seeking a place to congregate or study, while enticing to prospective students. We developed balance of open space and small, private study rooms with integrated technology in order to accommodate students working in groups or needing quiet, private work areas.  The newly designed communal study space has had a major positive impact on the overall student experience.  It has become the heart of the Herzing Minneapolis Campus; When new students visit Herzing, they are greeted by a receptionist and can immediately see this campus hub. It creates a positive first impression of the culture they could be a part of.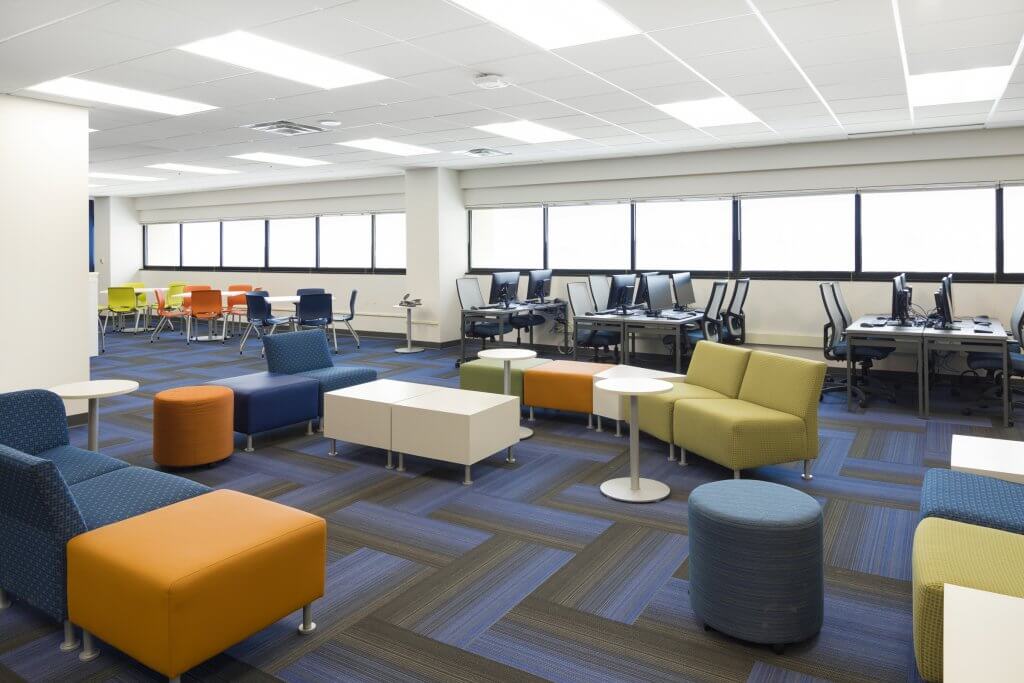 Dental Training
Herzing offers specialized programs for aspiring dental hygienists and assistants. Mohagen Hansen talked with the professors and department heads about how to best accommodate the students and increase each department's capabilities without requiring additional space. These conversations resulted in a more informed and custom layout, unique in that it was neither an actual dental clinic nor a traditional classroom setting. We implemented areas for gas storage, compressors, and other technical equipment needed to operate a functioning dental clinic, while also implementing a state-of-the-art dental simulation lab, one of only a few in the region.
Physical and Occupational Therapy Training
The Physical Therapy Program is new to Herzing, therefore, we had no existing space to review as a starting point. The professor of the program explained her preferences for the space and how it would be used. Mohagen Hansen also designed an area for the Occupational Therapy Program, which required a mock kitchen, bathroom, and bedroom set up. These spaces are used to provide students with the necessary skill sets and knowledge to train their future patients on how to use these common appliances within their own living situations.  New desks were also purchased to improve the flexibility required within the space to meet their programmatic needs.  
We were also able to maximize the training areas by creating a combined storage room for shared therapy equipment.
High-Intensity Nursing Simulation
Mohagen Hansen reshaped the nursing lab and teaching area and coordinated with other Herzing locations and vendors to allow for the build-out of a new, high-intensity nursing simulation center.  This includes the mock-up of actual patient rooms equipped with all that is necessary to meet the needs of a patient.
Interior Design, provided by Mohagen Hansen, included the selection of furniture. We scheduled tours of furniture vendor showrooms and helped with all finish selections. Sensitive to the client's budget, we reused as many elements from the previous facility as possible. The furniture and finishes played a critical role in the enhancement of the newly designed space.
Absolutely key to the success of this project, which was completed in-budget, and on-time, was the coordinated and cooperative work expedited by all members of the delivery team.  Herzing Minneapolis opened the doors to its new space on January 8, 2018.  Given the importance of student experience, Campus President Morgan continues to be thrilled with the popularity of the communal and private study areas which have remained consistently busy and near full since opening. The entire team is delighted that this primary project objective was met so quickly, and that the students were able to smoothly transition into the new and improved space.
Click here for more photos of the Herzing Minneapolis project.