With over 25 years of experience in the industry, Jan Dufault retired from her profession as an interior designer.
Jan's creativity impacted many projects throughout her accumulated 10 years at Mohagen Hansen. She worked on projects within multiple markets, but primarily designed spaces within the corporate office and healthcare markets.
Before Jan's last day at Mohagen Hansen, we discussed the highlights of her years at the firm as well as future plans with her free time.
Some may not know this fun fact about Jan – she is a talented artist. Jan explained her childhood, and how she grew up always carrying around a sketch book filled with house plans and fashion drawings. She noted that her home economics teacher suggested she follow the path of interior design, which became her career for many years to follow.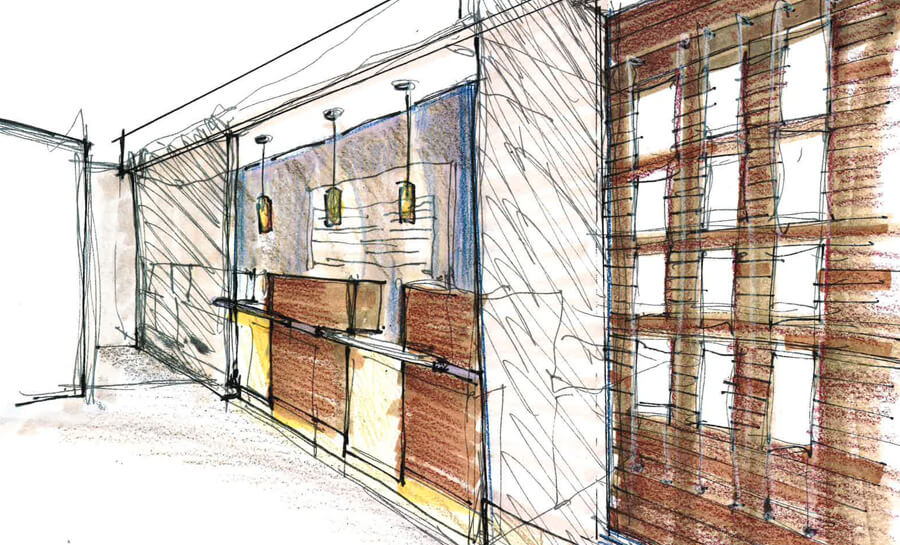 When prompted with the question: What advice would you give to someone just starting out their career as an interior designer? She said, "Think big! Think about what more you can do for a project. Learn all the technology, but don't forget about hand drawings. Be a part of the entire project and always collaborate."
Jan said her favorite part of this career has been, "Connecting with clients and getting to know them and their unique needs." She went on to explain, "Seeing the before and after images of a project is always very fun and rewarding."
Jan reflected on the technological advances throughout her years working within the industry. She said, "When I first started working, I worked downtown. We drew everything by hand, and when we needed a plan printed, we had to call a bike messenger. The messenger would bike to the printer and then deliver it to the client." She further explained the change in technology by saying, "I could almost feel the switch in my brain – going from hand drawing to using a computer. It was very strange, and now the technology is advancing so quickly!"
We asked Jan: "So what's next?" She explained that she plans to spend more time producing her artwork, telling stories through paint and practicing her drawing. This will be the focal point in this next chapter, as well as traveling with her husband.
We appreciate and will certainly miss Jan's many contributions to the firm, including her upbeat personality, ability to mentor young designers, and abundant creativity!
We wish her the absolute best in this new season of retirement!
See some of her artwork below: