Omnetics Connector Corporation
View Project Stats
Client
Omnetics Connector Corporation
SQ Footage
122,000 total sq. ft. - 45,000 sf office - 59,000 sf manufacturing - 18,000 sf warehouse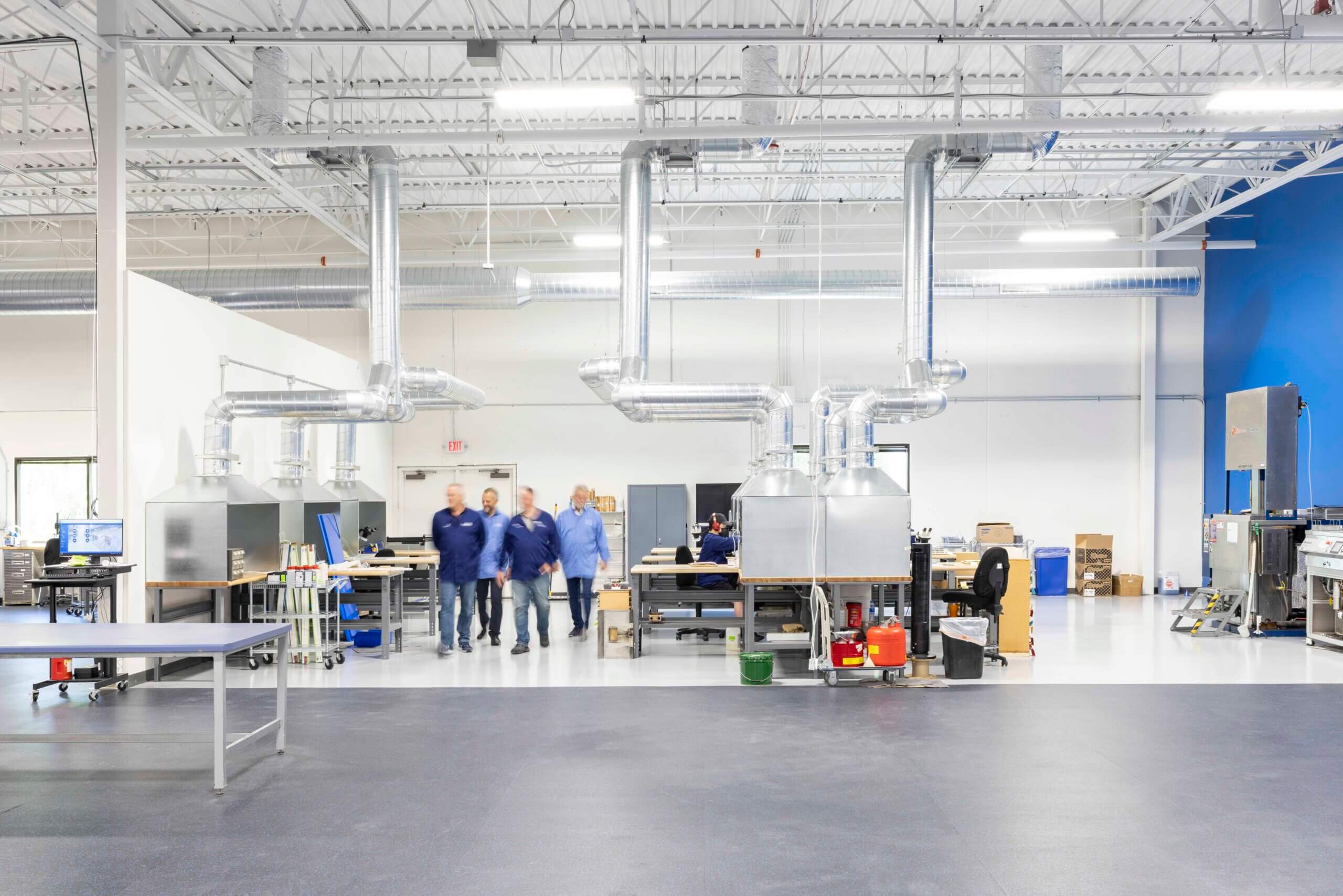 Omnetics Connector Corporation is a miniature connector design and manufacturing company located in Minneapolis, Minnesota. After outgrowing their previous facility which they also deemed to be inefficient, Omnetics knew they needed a change that would enhance the employee experience and improve their workflow efficiency. Mohagen Hansen Architecture | Interiors (MH) was selected to provide programming, space planning, architecture and interior design for the build out of this 122,000 sq. ft. facility, which included 45,000 sq. ft. of office space, 59,000 sq. ft. of production space, and 18,000 sq. ft. of warehouse space.
The building exterior remained in-tact, with the exception of a new dock door and trash enclosure on the north side of the building. On the site, a cohesive integration with the existing drive aisle and parking lot was designed to ensure sufficient stormwater drainage. 
The MH team approached the build-out of the space by first completing a program analysis. Work sessions with executives and department heads uncovered specific qualitative and quantitative space needs that influenced the layout of their new space and allows them to do their work more efficiently.
The production space was thoughtfully enhanced by painting the deck, which transformed what could have been a plain metal box into a light and airy space for employees to feel welcomed and productive. In the office space, carpet and paint selections introduce pattern and interest while connecting to the overarching Omnetics brand. Private offices were relocated from the building's perimeter to the center, allowing natural light to reach deeper into the workspace.
The production floor employees require focus and concentration, which is taxing to both the mind and body therefore respite spaces such as quiet rooms, a locker room and a large breakroom enhance employee well-being. The breakroom offers a welcoming environment to employees, with pops of blue to further reinforce the Omnetics brand. Several seating options and arrangements were planned in the layout. Additionally, the MH team created an interesting linear light design in the breakroom to add an artistic, yet subtle focal point.  Staggered shifts and break times bring the space to life with a constant flow of people who enjoy their new work environment and make use of the variety of spaces designed specifically for their use.