MNGI Digestive Health - Vadnais Heights Endoscopy Center & Clinic
View Project Stats
Client
MNGI Digestive Health
Location
Vadnais Heights, MN
SQ Footage
22,500 sq. ft.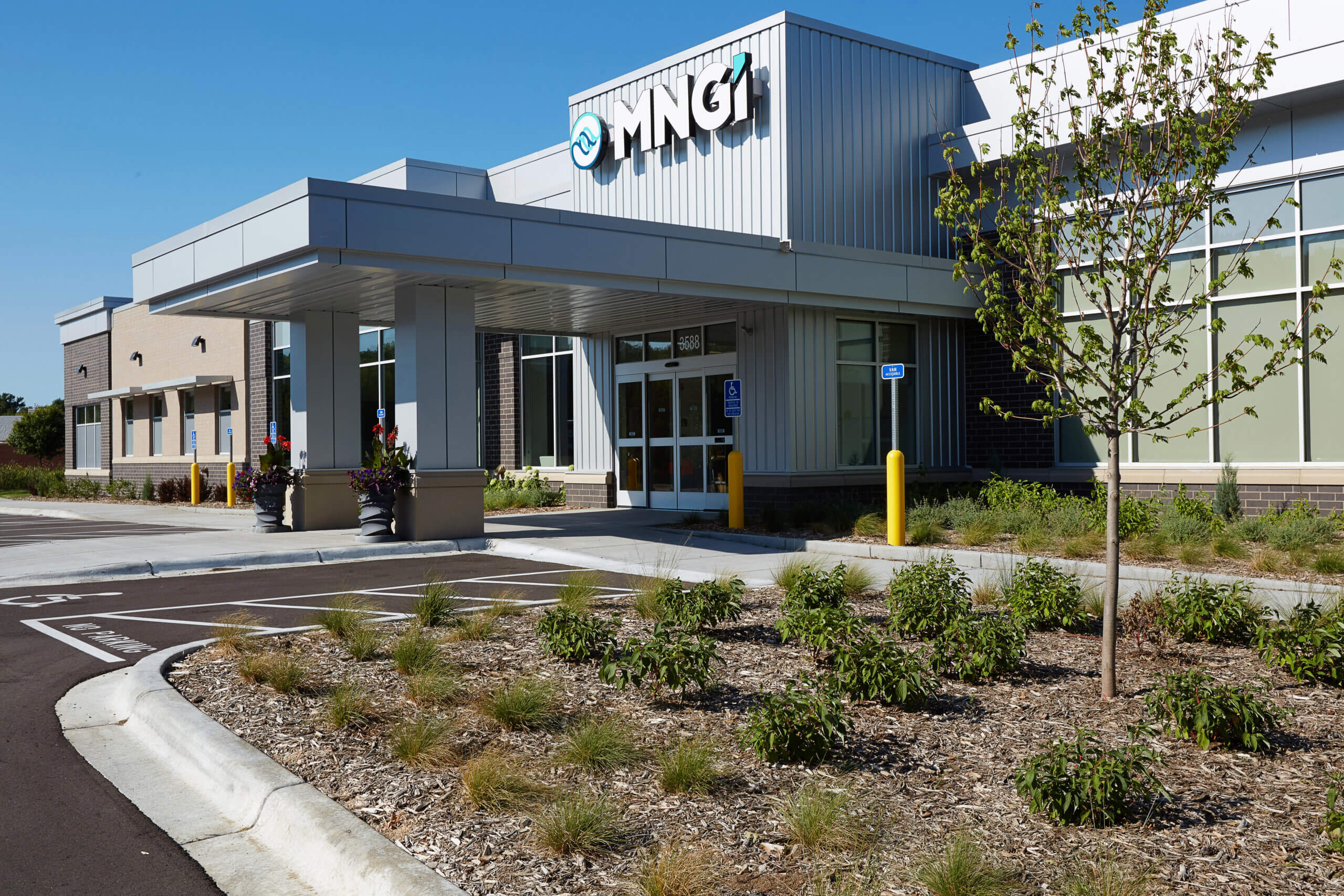 Mohagen Hansen Architecture | Interiors was selected by MNGI Digestive Health to provide planning, architecture and interior design services for their new, gastroenterology clinic and ambulatory surgery center located in Vadnais Heights, MN.
MNGI Digestive Health is an independent and locally owned gastroenterology specialty group with several locations in the Twin Cities area. This new location offers patients a range of gastroenterology and digestive health services including outpatient procedures, infusion therapy, and behavioral health and dietary health support services. To provide the best possible care for their patients, MNGI utilizes state-of-the-art technology and equipment. Mohagen Hansen coordinated with the technology consultants and equipment suppliers in a collaborative manner, creating a seamless planning and installation process.
Mohagen Hansen designed this single-story building to best fit the site while providing ample parking for patients and staff. The building exterior design includes a two-tone brick with architectural metal accents. The building interior took inspiration from MNGI's Woodbury Clinic which includes natural materials and warm tones, while introducing shades of their branded blue. The waiting area includes a unique art piece which resembles waves with soft, monochromatic colors and a back-lit lighting option. This piece can be viewed from the exterior of the building enhancing visibility from the street. The waiting area layout also provides patients and family members with an environment abundant in lighting and furniture solutions that allow for relaxing, touch-down spaces to work while waiting.
This facility was designed with an efficient circular flow as this includes both a clinic and an ambulatory surgery center. This benefits MNGI by cross-utilizing nurses. Additionally, a doctor bullpen was replaced with individual 6 ft. X 7 ft. cubical spaces with doors so doctors could engage with patients via telemedicine without occupying an exam space.