Cretex Medical
View Project Stats
Location
Brooklyn Park, MN
SQ Footage
242,994 sq. ft. total | 75,081 sq. ft. office space | 167,913 sq. ft. production and warehouse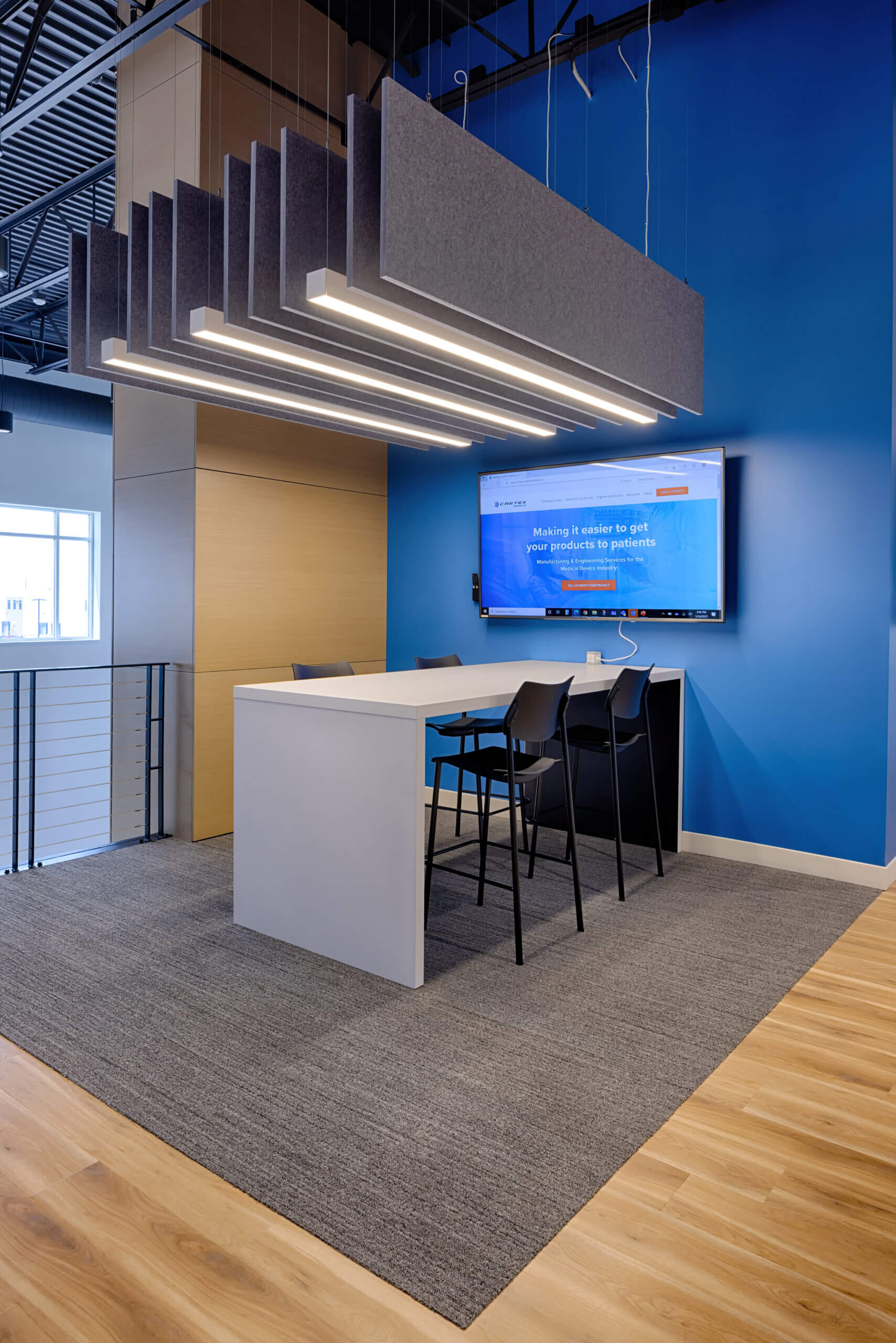 Cretex Medical provides manufacturing and engineering to the medical device industry utilizing the latest technology to support customer outcomes. To increase efficiency and position the company for accelerated growth, they moved into a new office/manufacturing facility which accommodates the consolidation of two Cretex companies. Meier which specializes in high-precision metal stamping, and JunoPacific, in injection molding.  Unlike typical office/manufacturing facilities, the two-story mezzanine and building entry offers abundant natural light along with a high design aesthetic that clearly communicates a commitment to innovation, appreciated by customers and visitors alike. Amenities throughout the space enhance employee satisfaction and wellness.
The layout also accommodates the process and the movement of product through the space; from the intake of raw materials used for manufacturing to storage and eventual shipping.  High pile storage of products in the hazardous category is also provided.  A large breakroom with a variety of seating options serves to bring together office and manufacturing personnel.  Large overhead doors lift to allow access to a multi-purpose space for training and company gatherings.  The breakroom offers built-in casework for lunch storage of non-perishable items allowing for ample refrigerated space as needed.  Cubbies and lockers are also available for the safe storage of personal items. The final design achieved Fitwel Certification which is the world's leading certification system committed to building health for all.  Goals met toward this achievement include electric vehicle chargers, a fitness center, and an outsourced health clinic within the building for employee convenience and well-being. Other sustainable design elements include low Volatile Organic Content (VOC) carpet, auto-sensor faucets, LED lighting throughout, lighting sensors in the manufacturing area and access to natural daylight.
Doors into the space from the exterior are strategically located to accommodate separate customer and employee entrances as well as a separate entry for the fitness center and clinic.  The mezzanine was designed in such a way to encourage the use of stairs to move vertically through the floors and discourage elevator use to enhance overall customer and employee wellness while meeting Fitwell criteria.  Optimizing the use of space for the modular cleanrooms was an interesting challenge.  Modular ISO Class 7 and 8 cleanrooms allow for flexibility to expand as a process requires.  Working closely with Gerbig Modular Cleanrooms, the team was able to develop a layout that would allow for growth and process changes.
The team incorporated branding throughout the building required the development of a cohesive look that would celebrate the best of both company brands, synergizing them and resulting in a clean and sophisticated color palette consisting of blue and gray with a dramatic black ceiling, complimented by mixed materials including maple wood details, metal and glass.